Vice President of Soccer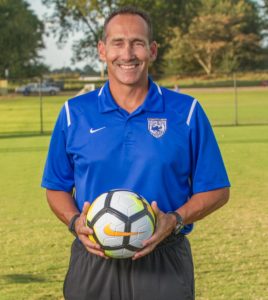 MANNY SANCHEZ
USSF "A" License
Manny is originally from Camaguey, Cuba. He is a graduate from Lee University, Cleveland, Tennessee with a BA in Wellness and Fitness (Cum Laude). Manny played collegiate soccer at Lee University in which he also served as the Head Assistant Coach. In his two years as a player at Lee he was named 1st Team NCCAA All -American, All Tran south Conference, All Region Player and All Tournament Team at the National Tournament.
Manny played professionally for eight years in the NPSL, AISA, MISL, and USISL. He was named team MVP and Goalkeeper of the year during the Memphis Storm's Championship season in 1988-89.
Manny has been coaching for over 28 years. His coaching certifications/Licenses include a USSF "A" License, NSCAA Premier Diploma, and UEFA "A" Intro. (Scotland), NSCAA National Youth Diploma. Manny has coached at the Youth, High School, and University and Professional level. Prior to coming to the Montgomery YMCA/Streaks he was the Director of Coaching for the Roswell Santos SC (GA) and Coached the U15 Athena A Girls Team to an undefeated season in 2009 and this past season coached the East Cobb Strikers U14 Girls to the GA State Cup Semi-Finals. He also served as the GA Olympic Development Program Head Coach for the 1996 Girls. Manny previously served as Head coach in the TN and MN ODP and a staff Coach for Region II and III ODP for the Boys and Girls. He also coached the TNFC '89 U18 Boys team, which won the Region III Premier League Championship in 2004 and the SMSC Velocity Premier U14 Girls 2005 State Champions and 2006 State Finalist.
Manny's full-time position in TN was serving as the Executive Director and Director of Coaching for Tennessee State Soccer Association where he oversaw the Olympic Development Program, State Coaching Schools and day-to-day operations of the association. Manny has coached Club Select teams to three State Cup Championships.
Manny's wealth of experience includes the following highlights:
* USSF "A" License (Highest Attainable Coaching License in the United States).
* UEFA "A" Intro-Scotland (United European Football Association License from Scotland-first part).
* NSCAA Premier Diploma (Highest Attainable Diploma from the National Soccer Coaches Association ofAmerica)
* NSCAA Youth National Diploma (Coaching Education Dealing Specific with Players Under 12 Years of Age).
* NSCAA Goalkeeper Level I and II Diploma (Coaching Diplomas with concentration on Goalkeeper Education).
* Tennessee Soccer, Executive Director (6 years).
* Tennessee State Director of Coaching (5 years) (Oversaw all the States Coaching Education and Player Development)
* NSCAA National Staff (Instructor for National Level Coaching Courses).
* NSCAA Board of Directors (At-Large Youth Representative on the Board of Directors).
* Director of Coaching -5 different Select/Recreational Associations
* Coached Grace Academy High School Girls to State A/AA Final-Four (2003)
* Tennessee State Boys Coach of the Year (2002)
* NSCAA Adidas Southeastern Regional Boys Coach of the Year (2004)
* Coached the Tennessee 1990 Boys ODP Team to Regional Title and appearance in the ODP National Championships (2006)
* Region III ODP Staff Coach for Boys and Girls.
* Region II ODP Staff Coach.
* ODP Head Coach, GA, TN, MN and Currently ALABAMA.
* Has been published multiple times in the Soccer Journal and other publications.
* BA Lee University (Fitness/Wellness).