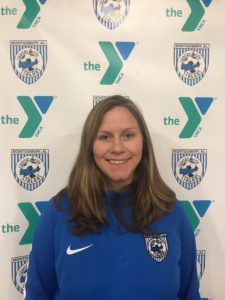 We would like to announce a new addition to the Streaks Coaching Staff. Jackie has a wealth of knowledge both as a player and as a coach. Her experience in soccer and as an educator will be a great addition to our staff and we are certain that our Streaks players will learn a lot from her. Jackie will begin her tenure here with the Streaks serving as a coach in our Girl's Academy.
Welcome aboard Jackie.
Jackie Bretl's Background.
-US National Youth Coaching License
-USSF "E" License
-Coached U11 Girls EPD program in WA state 2013-2014
-Coached several select and premier girls teams and clinics in the Seattle area from 2013-2015 (Bellevue Youth Soccer Club & Eastside Premier)
-Coached several youth girls travel teams in New York from 2004-2008 (Stony Brook Soccer Club, clinics/camps with Stony Brook University & Head Coach of LI Red Wolves)
-Won 2009 NY State Cup Championship with LI Red Wolves GU11
Player:
-Played for the Long Island Rough Riders in the W-League (semi-professionally) for two years
-Division 1 starter at LaSalle University & Stony Brook University
-2-time Div. 1 Team Captain @ Stony Brook
-America East All-Conference First Team, Runner Up "Defender of the Year" (2007)
-America East All-Conference Second Team (2006)
-Stony Brook U Team MVP (2006 & 2007)
-America East All-Academic Team (2006 & 2007)
-NSCAA/Adidas College Women All-East Region Scholar Third Team (2007)
-NSCAA/Adidas College Women All-East Region Scholar Honorable Mention (2006)
-George Mason Invitational All-Tournament Team (2007)
-Holiday Inn All-Tournament Team (2006)
-Captain of Stony Brook team with a record of 863:33 consecutive scoreless minutes (8th longest all-time, NCAA Women's Division 1)
-Played multiple years with NY State ODP as a youth player
-Won multiple State Cup Championships as well as Runner-Up
-Played for club team that was ranked within the top 10-20 teams in the country